Reflective Writing - Kate Williams, , Mary Woolliams, , and Jane Spiro 2012

Book Recommended This text is a good introduction to reflective writing. If you haven't engaged in reflective writing recently this may provide you with some direction

Module 1 topic 1 reading list

6 items

Introductory Chapters

4 items

Please select 1and post a 1 paragraph summary highlighting the key message on the exercise 1.2 discussion site

Understanding ethics - Torbjörn Tännsjö 2013 (electronic resource)

Book Chapter 1 Practical and Normative Ethics

What is ethics? - I Kerridge, M Lowe, C Stewart 2013

Chapter Please read chapter 1, pp. 3-11

Module 1 Topic 1: Extension Activity

1 item

Values education - N Preston 2014

Chapter To complete the exercise 1.3 you will need to read the following chapter. Preston, N. (2014). Chapter 13 "Values Education" in Understanding Ethics, The Federation Press. Please scroll to read pages 208-217

Module 1 topic 2 reading list

2 items

Please select one of the following readings that focuses on differentiating between legal and ethical.

Ethics: approaching moral decisions - Arthur F. Holmes 2007

Book Please refer to Chapter 11 (ereading) and the following are the discussion points for Exercise 2.1: Do you agree with his statement "Human rights provide an ethical basis for government and moral limitations on its power"? What is the difference between paternalistic behaviour and a legal moralist perspective?

Module 1 topic 3 reading list

6 items

There are many references that can help you to identify your values. This is an important individual task as you will need to submit your values in Assignment 1a. If your group submitted your group charter in a timely manner you should have access to a file "Values resources"

As you read ask yourself some of the following questions

What is valuable to you?
On what do you identify your successes?
How were those values formed?
Do values change?
If so, what causes them to change? Have your values changed?

What impact do our values have in our interaction with others?
What happens when our values conflict with others?
How do you speak to people and communicate effectively with them when their values are different to yours?
In your responses to the exercises what was your main focus?

Module 1 topic 4 reading list

11 items

If you select either one of these two chapters they will provide you with a basis for understanding consequentialism.

The following site from the BBC introduces consequentialism

Readings

The following readings will inform your torture discussions.

Webpage Please be warned, some may find this disturbing as it outlines some current torture techniques. It is not essential to watch or listen to but it is included to give you an understanding of the techniques used.

Module 1 Topic 5

11 items

Document Der-lan Yeh T. The way to peace: a Buddhist perspective. Int J P Studies. 2006;11(1):91-112.

Module 1 Topic 6 reading list

7 items

Please select either of these chapters that explore the relationship between absolutism and relativism.

Module 2 Topic 7 reading list

4 items

Please refer back to topic 1's readings

Ethics: theory and practice - Jacques P. Thiroux, Keith W. Krasemann c2012

Book While not specifically on the topic Chapters 14 & 15 in the text may be useful background reading

Module 2 Topic 8 reading list

5 items

The following are additional readings that may assist you when examining your decision making

Module 2 Topic 9 reading list

7 items

The following websites are useful resources that highlight cultural differences in communication patterns:

The following readings highlight team processes which may be of use to you when writing up the processes your group/team went through.

Module 2 Topic 10 reading list

12 items

The following are a few links that may be interesting to explore

There are many American organisations but you need to be careful as their legislative system is different

Examples of Ombudsman & commissions

Webpage This is a brief summary of the American approach to drug pricing. There are some differences in the Australia processes.
All rights reserved ©
Profile Required
Reading intentions and notes are stored against your user profile. Please create a profile to use this feature.
My notes
You must be logged in to add a note
What are item notes?
You can use item notes to make personal notes on any of your reading items. Notes are private to you and will not be shown to other users.
You can review your item notes from the list, the item page or from your profile page.
---
How do I create an item note?
To make notes, first you must be logged in. Once logged in, simply click Add note? next to the list item you wish to make notes on. You can also make notes at the bottom of every item's detail page.
Your note will be saved automatically as you type.
Have you read this?
You must be logged in to set a reading intention
What are reading intentions?
Setting up reading intentions help you organise your course reading. It makes it easy to scan through your lists and keep track of progress. Here's an example of what they look like: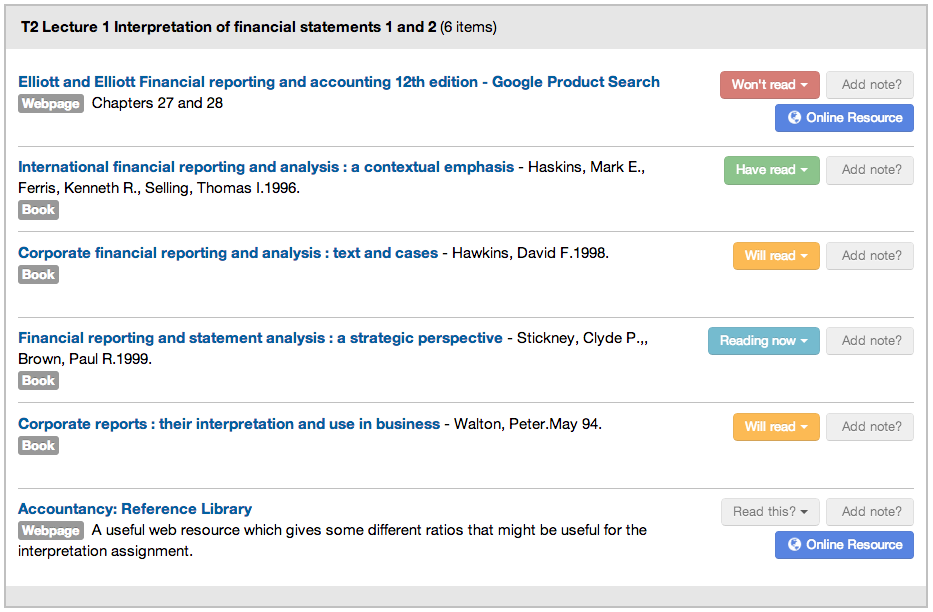 Your reading intentions are also stored in your profile for future reference.
---
How do I set a reading intention
To set a reading intention, first you must be logged in. Once logged in, click Read this? next to the list item you wish to set a reading intention for.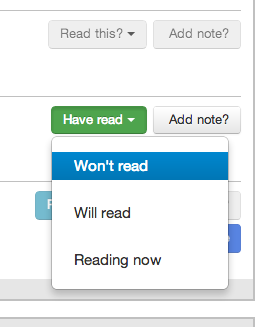 You can also set the reading intention from every item's detail page.